I was wondering when the Mainstream Media would come after Portnoy. For one thing, he's way more popular and successful than any of them these days. The mainstream media is basically irrelevant these days, yet Barstool is bigger than ever. Not only is Portnoy eating their lunch, he clowns them every chance he gets. Second, he and Barstool represent "toxic" masculinity and bro culture, which the pencil necks and beta males, along with the mad-at-the-world catladies and feminazis, in the mainstream media absolutely despise with every fiber of their being. Third, Portnoy is close with Trump.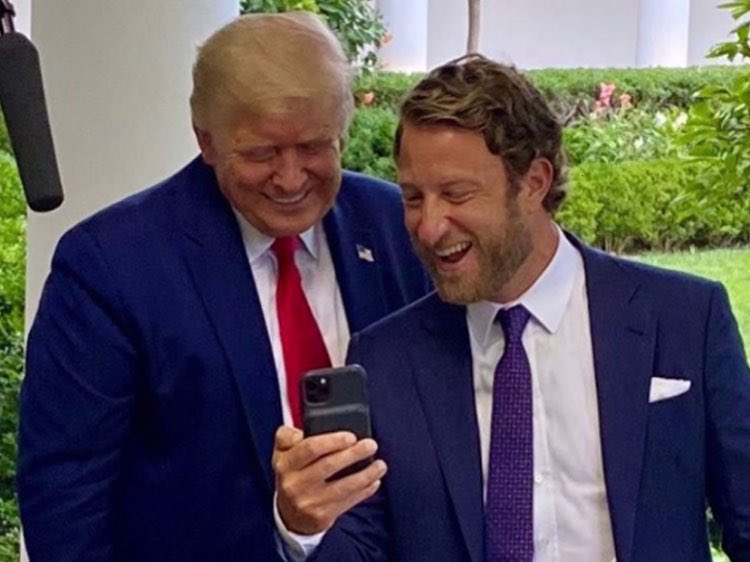 So you just knew the scoundrels in the media were going to come after him. It was inevitable.
Anyway, the Business Insider piece is behind a paywall, but the most notable excerpts are all over Twitter in the form of screenshots: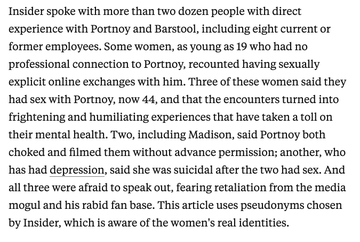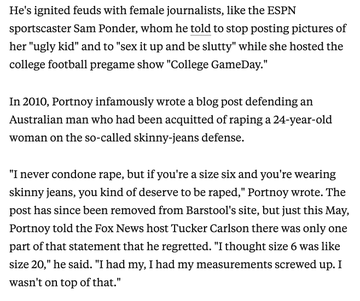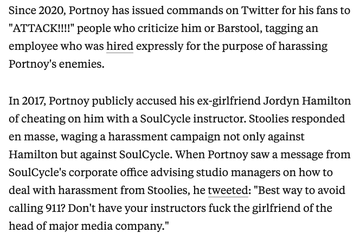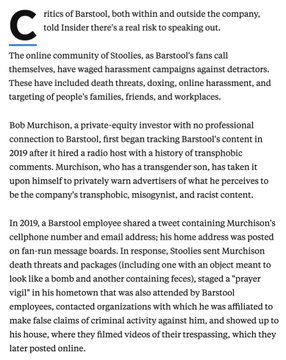 "Privately warn advertisers" = subtly threaten them to discourage them from doing business with Barstool.
This is the more relevant matter in the article as it delves into Portnoy's alleged sexual proclivities:
They're trying to make it seem as if Portnoy only goes for young girls–he wouldn't give the 22-year-olds the time of day but he responded to the 19-year-old girl.
Is it possible, though, that the 19-year-old girl was the only one who he thought was hot?
So "Allison" had consensual sex with Portnoy, would not characterize it as sexual assault, although she was just put off by the spitting in the mouth thing. Some people just get down that way, I don't know. Spitting in mouths is not my thing, personally, but some people I guess enjoy it. Portnoy likes it, Allison did not.
There's some other stuff from a girl they call "Madison" as well:
Again, some people are into choking. It's not that crazy. But apparently, according to the article, the girl "Madison" told Portnoy she had a "rape fantasy":
"Madison" also added that rape fantasies were "kind of common," and I'm assuming she meant for women in general. That's something to ponder.
The only thing I could see being possible trouble for Portnoy is the filming, but only if it was done in secret without the girls' knowledge.
I am not sure what else is in the article. Again, it's behind a paywall. That's how you can tell Business Insider really cares about these women and Getting Their Stories Out.
Also, GIVE US YOUR MONEY:
They're already hawking subscriptions to their website based off the Portnoy article.
The utter state of the failing mainstream media.
Portnoy's response videos, posted directly to Twitter:
Portnoy addresses both allegations from the girls directly: the first one, who said she slept on his couch–that was due to a personal disagreement between them. Portnoy said they just didn't get along as human beings; different worldviews, etc. They just weren't friends. The two not having sex or sleeping in the same bed for the remainder of her stay had nothing to do with what happened when they did have sex, it was because they just disliked each other as human beings.
The second girl he discusses–"Allison"–is a more straightforward case. While the article makes it seem like Allison was scarred for life from her harrowing encounter with Portnoy, Portnoy has screenshots of DMs from her from after their encounter showing that she was still very much into him. It's all there in the video.
The biggest point that Portnoy makes is that the Business Insider writer (can't remember her name) knew what she was going to write before she even interviewed those girls. Her mind was made up before she even put pen to paper. She was determined to cast Portnoy as a scumbag and possibly a rapist/pedophile from before she even typed a word of that article.
And that's how the mainstream media in this country works. It's pure muckraking.
These "journalists" and "reporters" set out with a mission to destroy a particular person, and then let nothing–not even the truth–stand in their way.