Oh man! I'm sure he was really looking forward to meeting with them and hearing them Voice Their Concerns. I'm sure he's really bummed out about this:
Just yesterday, the Fairy Boy Prime Minister gave a speech in which he denounced the Freedom Convoy as people with "unacceptable views" and called them a "fringe minority":
For a long time, I thought that when tyranny arrived in Western Civilization, it would look like tyranny–you know, some communist Supreme Leader who wears a military uniform instead of a suit:
But in reality, you can look like this and still be a tyrant:
Apparently not.
As for the "fringe minority," I'm not so sure about that:
"Fringe":
I have been following this guy's videos on YouTube for updates on the Convoy this whole week. He does a great job getting footage and just puts together great videos all around–and he's funny.
I guess Saturday is the day when the whole Convoy will arrive in Ottawa for a big rally and protest, but some have already arrived:
Former NHL star Theo Fleury went on Fox News with Laura Ingraham and said that there are over 50,000 truckers along with 1.4 million people in total, and they're going to stay there until either Trudeau resigns or he abandons his tyrannical Covid-19 policies:
Amazing.
I've never seen anything like this before.
According to the Toronto Sun, the longest truck convoy ever recorded was 7.5km long in Egypt a couple of years ago, but this one in Canada is estimated to be 70km long, which is like 40 miles.
This isn't a convoy. It's an army.
In the dead of winter, crowds are lining what looks like the entirety of the Trans-Canada Highway, cheering these truckers on like conquering heroes of Ancient Rome.
How can you not be inspired by this?
People are walking the side of the highway to deliver food and supplies to the convoy:
It's like -15 out there, too.
These good ol' boys control the whole damn economy, too. The longer the government refuses to give in to their demands, the emptier the store shelves get.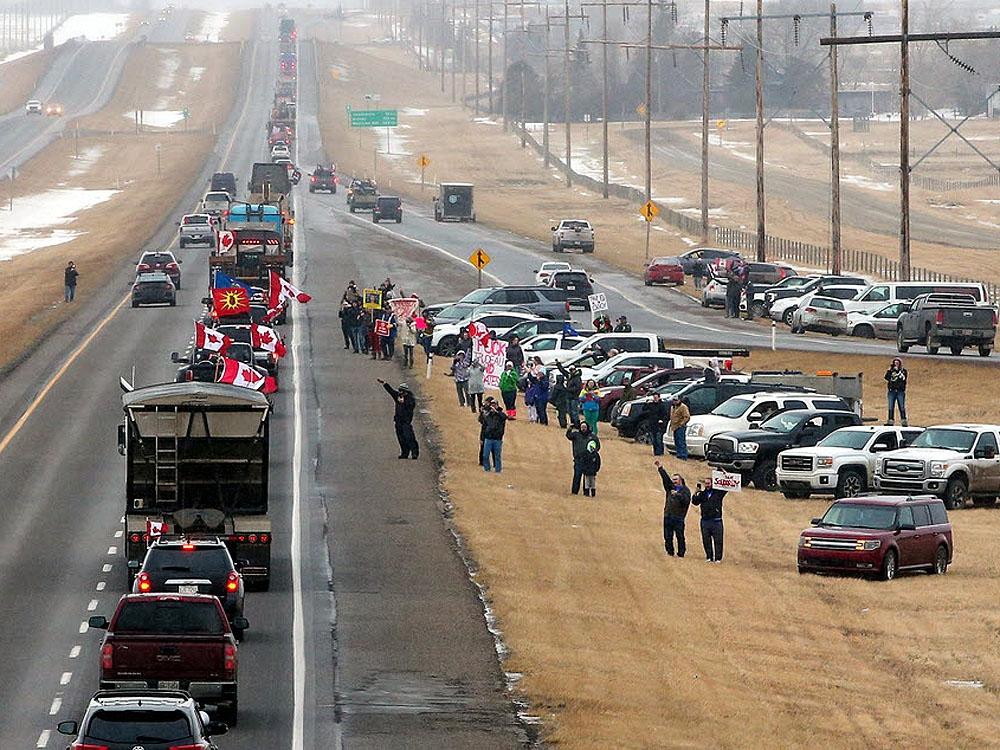 It's so beautiful.
I will never again say a bad word about Canada as long as I live. These people are based beyond belief.
FRINGE MINORITY!
This is not just about Canada, either. If these truckers succeed and their demands are met, it sends a message to people–and governments–all around the world: you don't have to sit there and take it.
You can take matters into your own hands. You are not at the mercy of the politicians.
Godspeed, truckers.
UPDATE:
Elon Musk just tweeted this out.
VERY based.